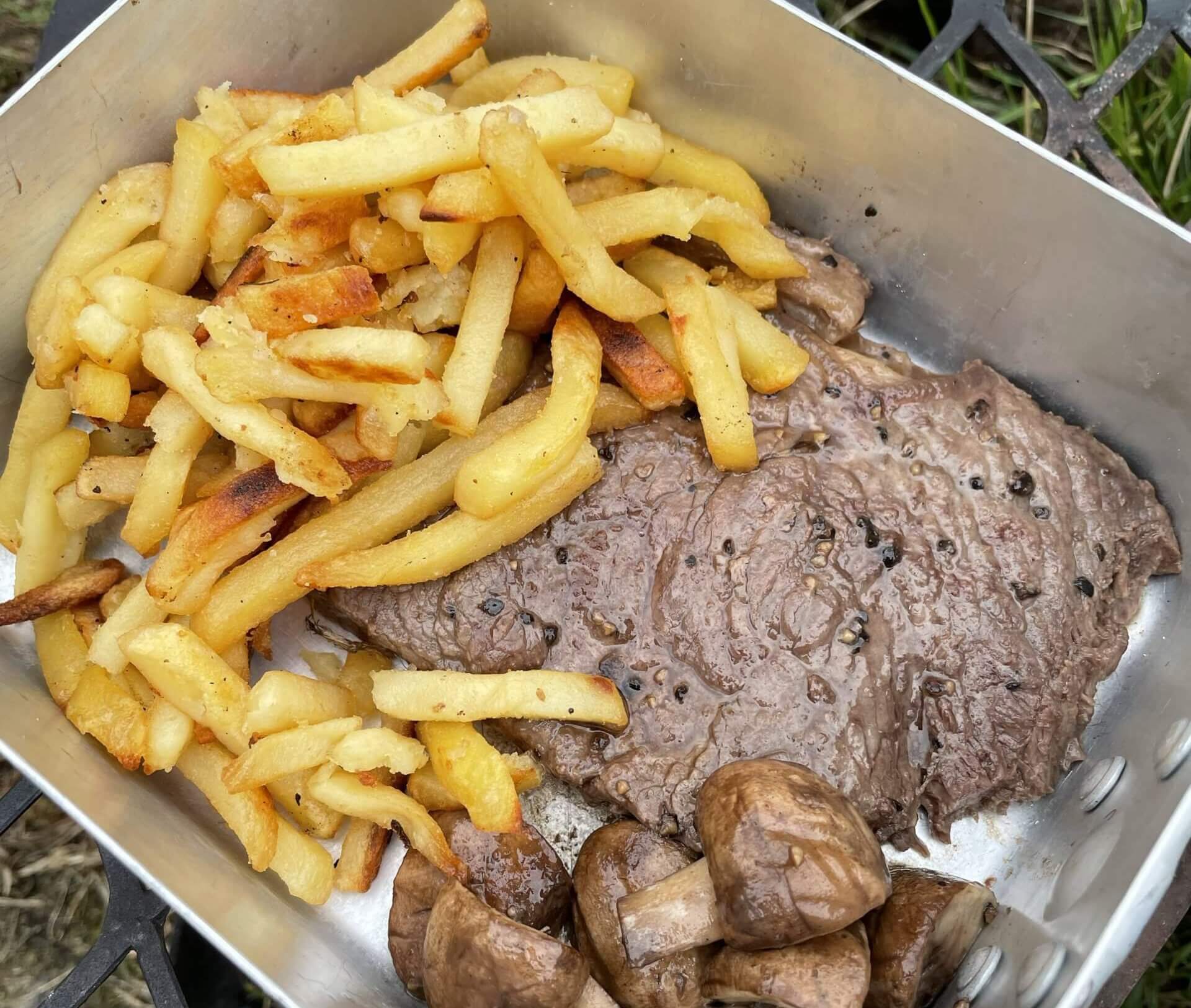 I've been camping since I was 12 and in all that time I have never cooked chips or French fries whilst camping. Today that changed!
I happened to have a Dutch Oven with me and whilst contemplating what to have with a nice ribeye steak and mushrooms, I decided to pick up a pack of pre-prepared frozen French Fries from a Co-Op in Glencoe.
This was more out of curiosity than any great culinary idea, however, it does serve a purpose. Quite often I end up cooking camp food for kids and they screw their little noses up at another pasta or couscous or rice based meal. All they sometimes want is a campfire pizza or chicken nuggets & chips. The sort of food that children quite often eat at home.
With that in mind, this isn't really a recipe, as such. It is more a camp cooking technique where a Dutch Oven is used as, erm, a conventional oven. With a campfire and a Dutch Oven you can cook pies, chips, potato wedges or waffles, pizza, chicken nuggets, fish fingers… Basically everything a 5 year old loves!
Camp Cooking with a Dutch Oven
A Dutch Oven is a cast iron cooking pot that you put in, on or over a campfire. The technique to using one is rather simple, get it hot and it retains heat for quite some time. Long enough to effectively oven cook food outdoors.
Dutch Oven cooking times are practically the same as a fan oven at home. They aren't the easiest of things to carry around but I often lug my 4.5 litre one on camping trips. I wouldn't take it hillwalking or backpacking but it's a useful tool in my camp kitchen arsenal.
A lot of campsites won't allow campfires but if you happen to be at a beach or Loch then a fire-pit or campfire becomes an option. I've never tried a Dutch Oven over a barbecue but it should be possible.
Again, this isn't a recipe as such but more a general guide to cooking with a Dutch Oven.
Dutch Oven French Fries / Chips
Oven cooking French Fries in a Dutch Oven over a campfire is almost identical to using a convential oven at home.
Ingredients
1

pack

Ready-made Oven Chips / Frozen French Fries etc…
Instructions
Set and light a fire using wood, charcoal or coal.

Place the Dutch Oven next to the fire so it can warm up. Rotate every so often to get an even heat throughout.

Wait for the fire to die down until you have some nice hot coals to cook on.

Place your oven chips / French Fries / waffles / chicken nuggets etc… in the Dutch Oven and place in the coals.

1 pack Ready-made Oven Chips / Frozen French Fries etc…

Wearing fireproof gloves, pick up some hot coals and place them on the top of the Dutch Oven. This provides heat from the top down.

Cook your food for as long as you would normally. Replace the coals on the top periodically with fresh, hot, coals from the fire bed. Try not to open the Dutch Oven too often as the heat will escape.

Once everything is cooked, remove the coals from the lid and remove the Dutch Oven from the fire. It will be very hot, use fireproof gloves and keep kids away from it. Serve and enjoy your food!

Once the Dutch Oven has cooled, clean with cooking oil on a paper towel, cleaning with washing up liquid & water is not normally necessary.
Notes
Dutch ovens can be placed directly in the fire, hung from a tripod or positioned on a grill.  Use whatever option you prefer.
If using a tripod, you can control the heat by moving the Dutch Oven up or down.