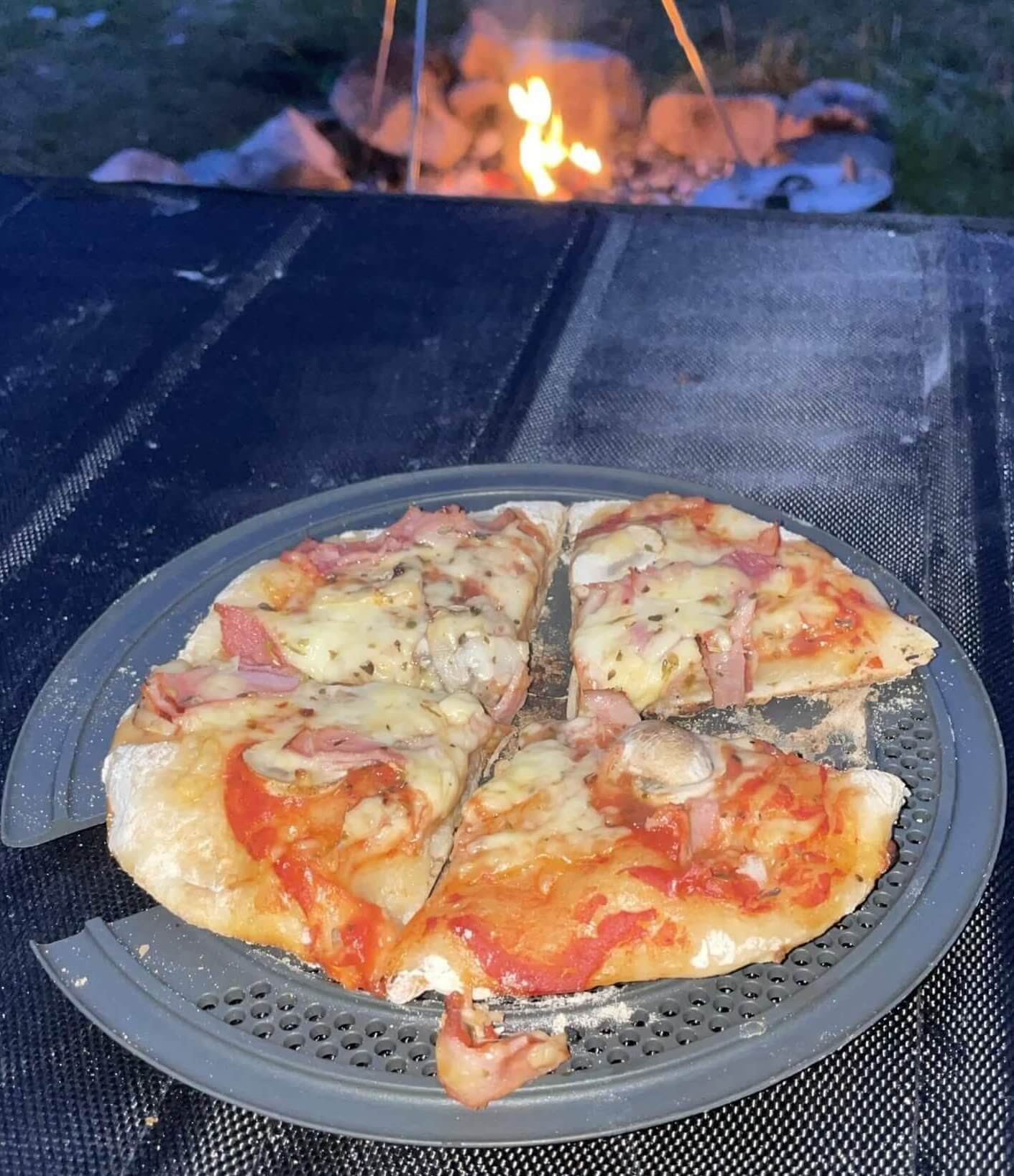 Campfire pizza, made from Greek yogurt? When I was told about this I immediately thought it was a wind-up. How do you make pizza from yoghurt?
It turns out that it is actually very simple to make pizza from yogurt!
Granted, the first three or four times I made this the resulting pizzas were not quite perfect. Base too burnt, base too doughy, I put too many toppings on one and it ended up soggy.
Eventually, though, I got there in the end and made brilliant, tasty, campfire pizzas from scratch.
Bread doesn't tend to cope too well when camping, it just seems to end up damp. Too warm, damp bread. Too cold, damp bread.
I also struggled with yeast based doughs. Again, due to the weather and not being able to control the temperatures the yeast is exposed to.
This is where this simple 2 ingredient pizza dough crossed my path, genuine requirements rather than just making weird pizza for the sake of it.
To make the pizza dough you simply combine Greek yogurt and self-raising flour. That's it. No proving, kneeding or any hassle.
Simply make your base, add tomato sauce and put on your toppings. Then cook the pizza over a campfire in a Dutch Oven.
It really is so simple to make and is a great pizza recipe for kids too.
You'll be hard pressed to tell it wasn't a regular pizza. If you are as sceptical as I was, then I urge you to try it.
I promise you that you will be initially confused and then blown away by this pizza!
Campfire Pizza
Campfire pizza made with a base of Greek yogurt and flour!
Ingredients
1

cup

Greek Yogurt

1½

cups

Self Raising Flour

(plus extra for dusting)

2

tbsp

Pizza Sauce / Passata

Grated Mozzarella

(or mozzarella slices)

Pizza Toppings of choice
Instructions
Mix roughly equal amounts of yogurt and flour together and then keep adding more flour until the dough becomes drier. You may need to use your hands.

1 cup Greek Yogurt,

1½ cups Self Raising Flour

Once the dough is dry enough not to be sticky, dust a wooden chopping board with flour and roll the dough.

A water bottle makes for a handy rolling pin.

1½ cups Self Raising Flour

Make sure the dough is smaller than your Dutch Oven, then spoon on your tomato sauce.

2 tbsp Pizza Sauce / Passata

Add your toppings and mozzarella. Experiment with cooked ham, mushroom, cooked chicken, pepperoni, peppers, red onion, pineapple, basil, Italian herbs etc…

Do not put on too many toppings or you may get a soggy pizza. Less is more!

Grated Mozzarella,

Pizza Toppings of choice

Place some greaseproof paper in the bottom of a warm Dutch Oven. The paper helps remove the pizza at the end.

Transfer your pizza to the Dutch Oven and cook over the fire for approx 20 minutes.

Remember to place hot coals on the top of the Dutch Oven to cook the toppings.

Check on the pizza every 10 minutes or so and serve when it's ready.