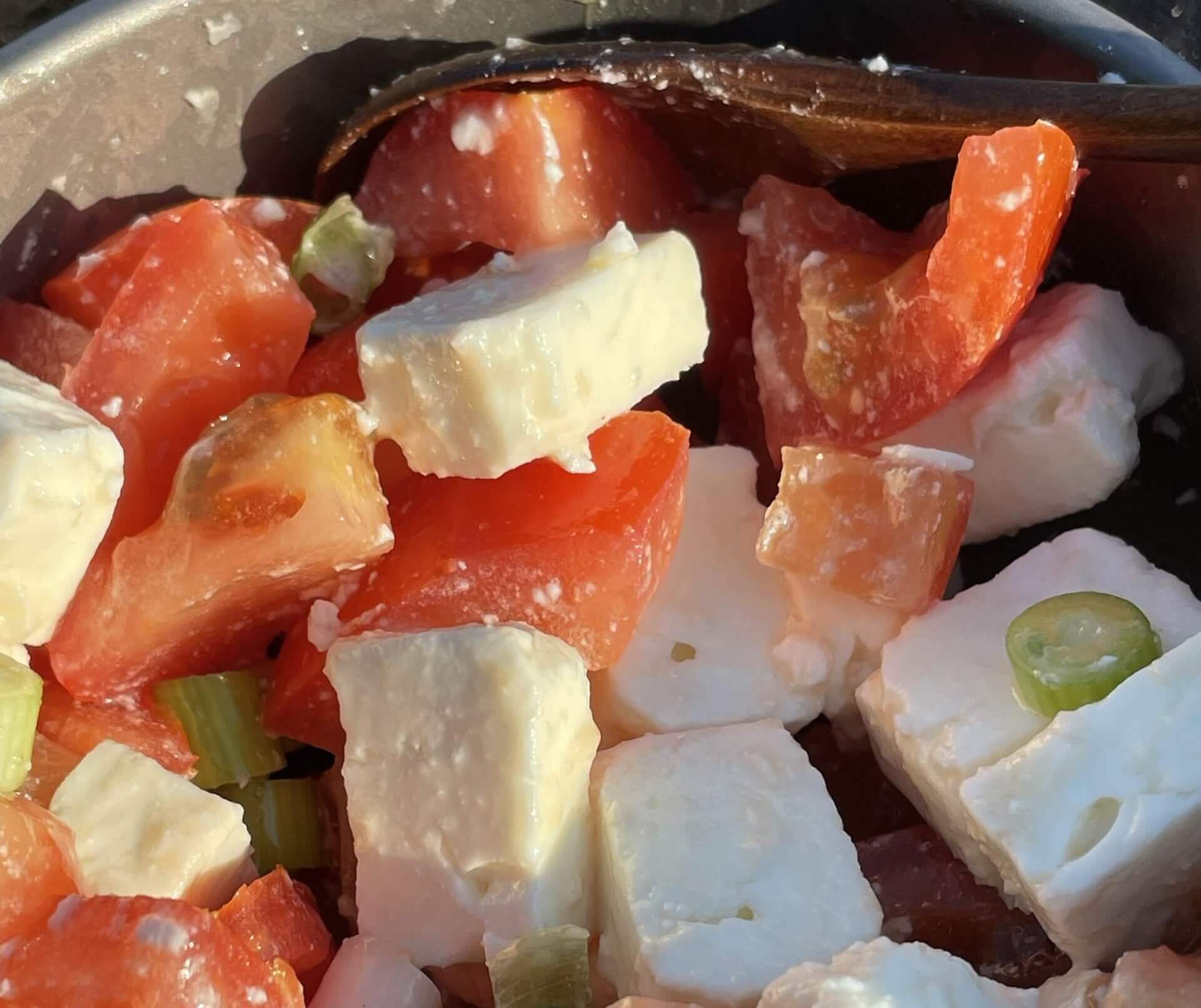 It's been rather warm in Scotland recently, with temperatures rising above 30 degrees C quite often. This tends to put me off building a campfire to cook on or firing up a camping stove.

When it's hot, I tend to favour light, Mediterranean style lunches or picnics. These are even more fun when making a camping lunch for several people, relaxed, shared lunches are always nice.

This recipe for feta, tomato & spring onion salad is super simple, cheap and perfect for hot summer days. It goes well with some fresh bread or flatbreads, grilled halloumi and mango salsa for a pic n mix stye camping picnic.
The feta, tomato & spring onion salad is as simple as chopping and mixing the 4 ingredients together. Good quality ingredients are best left with the minimum of preparation, in my book. Especially when it is hot!
Feta, Tomato & Spring Onion Salad
Mix Feta, Tomato & Spring Onion together for an easy, quick picnic lunch.
Ingredients
1

tsp

olive oil

1

block

feta cheese

4

tomatoes

4

spring onions
Instructions
Chop the feta into cubes and place in a bowl with the olive oil.

1 tsp olive oil,

1 block feta cheese

Chop the tomatoes into quarters, aim for roughly the same size as the feta cubes. Add to the bowl.

Finely chop the spring onions and mix into the feta & tomatoes, covering all the ingredients with the olive oil.

Season with a splash of lemon juice, if desired, then serve.
Notes
This feta, tomato and spring salad is ideal served as part of a picnic lunch.  Bread, olives, halloumi & mango salsa, cured meats all make fine accompaniments.