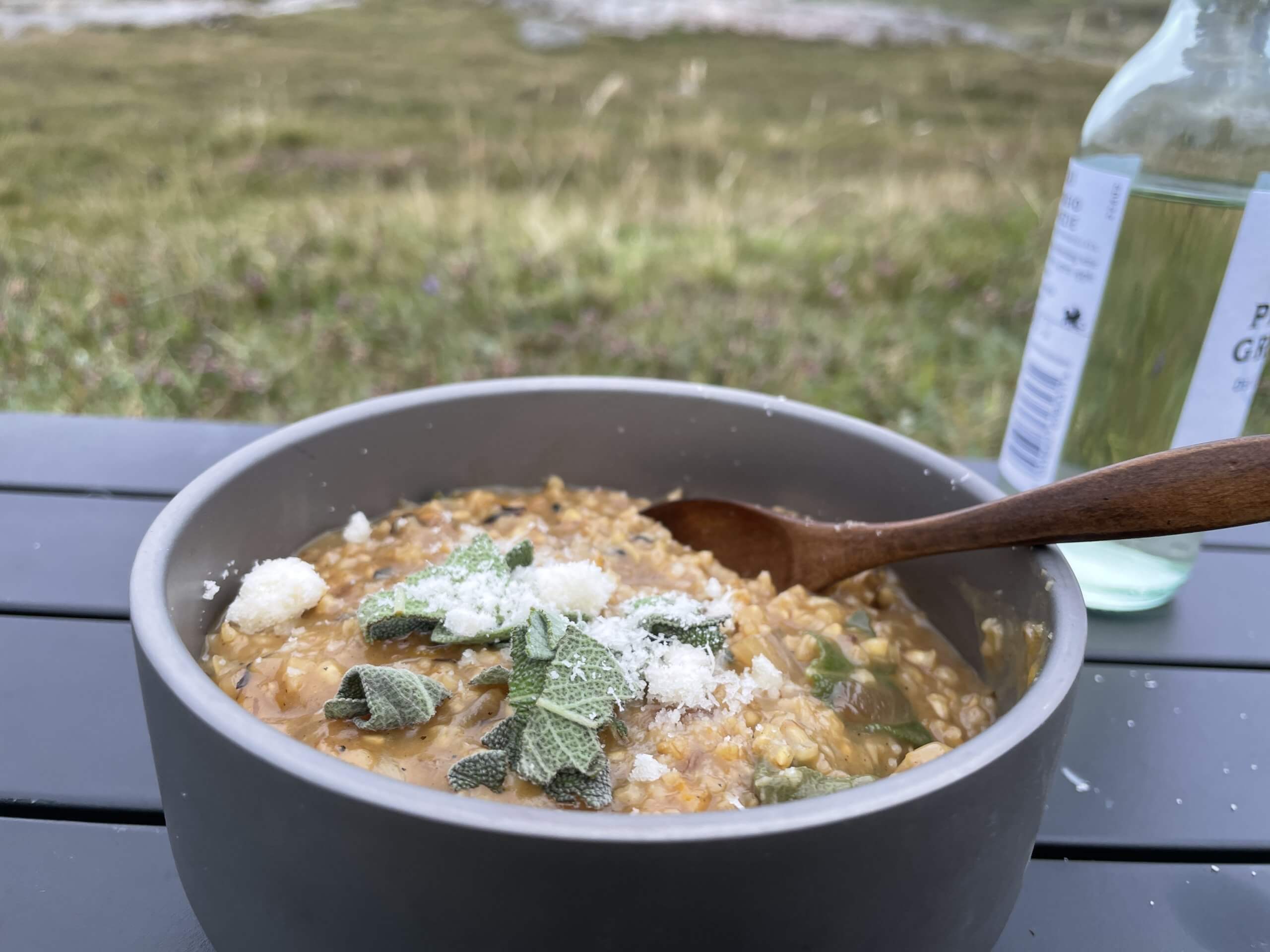 This recipe for Butternut Squash & Sage Risotto is not your average camping meal, it is very much in the territory of gourmet camping meals.
The list of ingredients may seem complex, compared to my usual camping recipes but it is, essentially, a fairly simple one-pot Trangia meal.
I used pinhead oats instead of the usual risotto rice as I am entering the 2022 World Porridge Making Championships and I need a speciality oat dish. I opted for a seasonal, savoury butternut squash & sage porridge which is almost identical to a risotto.
Pinhead oats make for a great addition to savoury porridges, they have a nutty taste and a pleasing texture. They also absorb the flavours in this dish remarkably well.
The sage, in particular is a highlight, complimenting the butternut squash superbly.
As I say, this is not your typical camping dinner but, honestly, give it a try. You'll be amazed what you can cook on these Trangia stoves. It may, just be, the best tasting camping dinner I have made on a Trangia, thus far.

I did enter a slightly modified version of this recipe in the Speciality Porridge competition at The World Porridge Making Championships. It didn't win but everyone that tasted it told me that they enjoyed it. They may have just been being polite, make it for yourself and find out!
Read more of my Trangia recipes or to watch Trangia Camp Cooking Videos.
Oat Risotto Butternut Squash
Butternut squash & sage risotto made with pinhead oats instead of the traditional arborio rice.
Ingredients
2

shallots

½

butternut squash

1

tbsp

butter

1

clove

garlic

20

ml

dry white wine

1

pint

water

1

chicken or vegetable stock cube

1

cup

pinhead oatmeal

½

lime (juice only)

3

leaves

sage

25g

grated Italian hard cheese
Instructions
Finely chop the shallots and dice the butternut squash.

2 shallots,

½ butternut squash

Caramelise the butternut squash & shallots in butter in the large Trangia pan.

Once the squash and shallots are browned, add chopped garlic to the pan.

Add a splash of white wine and deglaze the pan.

Mix the pinhead oats in to the pan and stir, coating evenly.

Top the pan up with stock made from the boiling water and a stock cube.

1 pint water,

1 chicken or vegetable stock cube

Bring to the boil and then gently simmer for 10-15 minutes, until the oats start to go softer.

Roughly chop the sage and add to the pan with the lime juice.

½ lime (juice only),

3 leaves sage

Stir in the grated cheese and then simmer until the desired consistency is achieved.

25g grated Italian hard cheese

Serve in a bowl, topped with some sage leaves and extra cheese.
Video