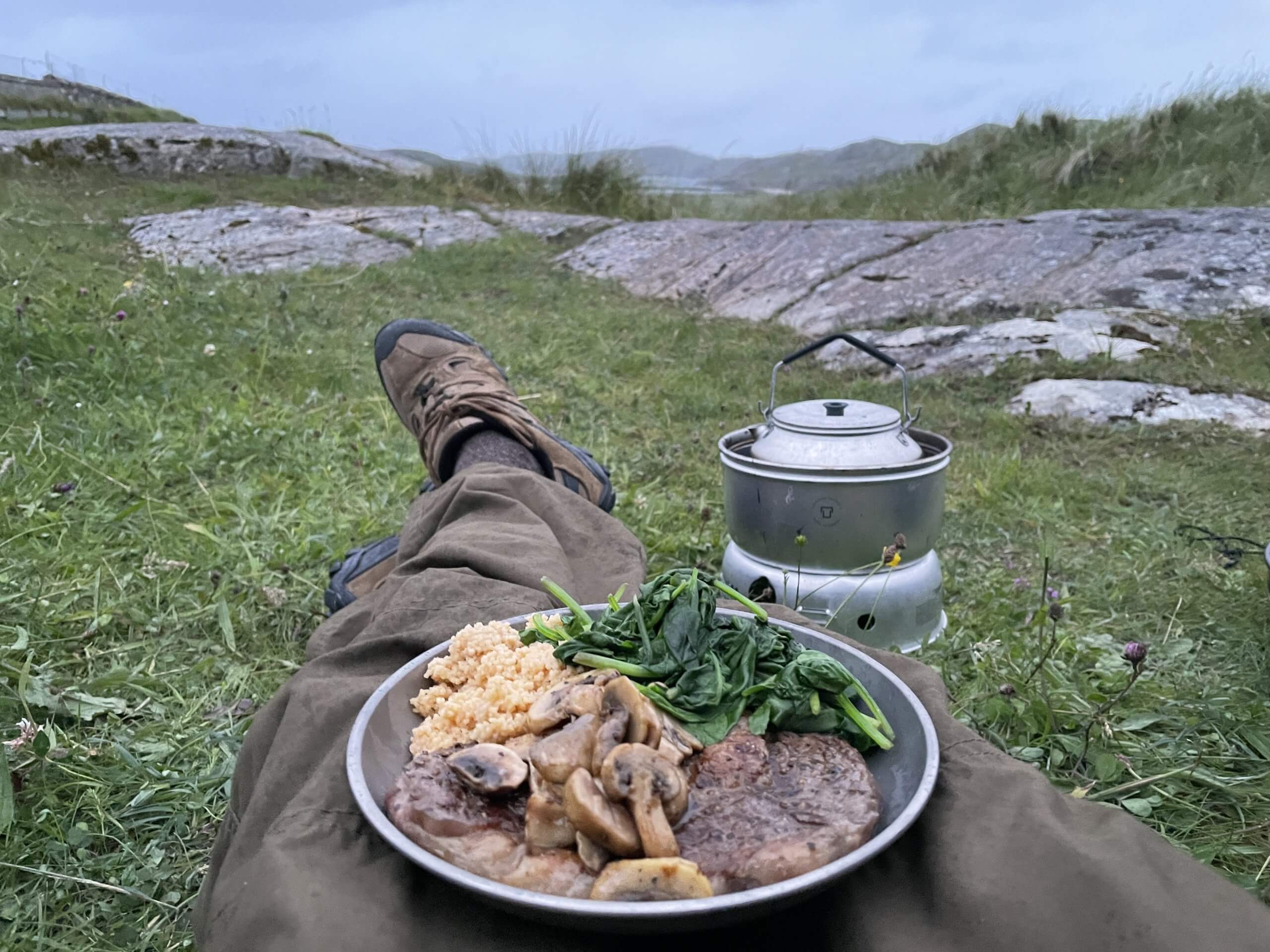 This recipe for ribeye steak with couscous, spinach & mushrooms is all about time-management. Cooking with all three Trangia pans & the kettle, so that everything is ready at the same time.
I find that using a ready-made packet of couscous is quicker, easier and tastier than making it from scratch, although you could make your own couscous instead.
The spinach is not only healthy but super-quick to make, hardly requiring any cooking at all.
Other cuts of steak would also work, fillet, sirloin and bavette steaks are options I have used in the past.
On most camping trips, this is my go-to meal for my first night. Occasionally I'll swap out the spinach for broccoli or asparagus. Experiment with whatever is in season.

Read more of my Trangia recipes or to watch Trangia Camp Cooking Videos.
Ribeye Steak with Couscous, Spinach & Mushrooms
A lovely ribeye steak Trangia recipe served with couscous, spinach and fried mushrooms.
Ingredients
1

tsp

olive oil

1

ribeye steak

½

packet

ready-made couscous

½

bag

baby spinach

1tsp

butter

5

mushrooms
Instructions
Boil a kettle full of water on the Trangia.

Season the steak with olive oil salt & pepper. Optionally add garlic/onion powder.

Remove the boiling water from the Trangia and set aside.

Using the frying pan, start cooking the steak. Turn after a few minutes.

Using the smaller pan, empty the sachet of couscous and add the boiled water.

½ packet ready-made couscous

Put the spinach in the larger pan and add a small amount of the boiling water. Just enough to wilt & steam the spinach.

Stack the couscous pan on top of the spinach pan to retain steam.

Add butter to the steak pan. Slice the mushrooms and add them to the frying pan, coating them in steak juice & butter.

Once the steak & mushrooms are cooked, remove from the heat.

Place the spinach pan on the stove to heat through for 1 minute.

Heat the couscous on the stove for one minute, seperate with a fork.

Serve the steak, mushrooms, couscous and spinach.
Video