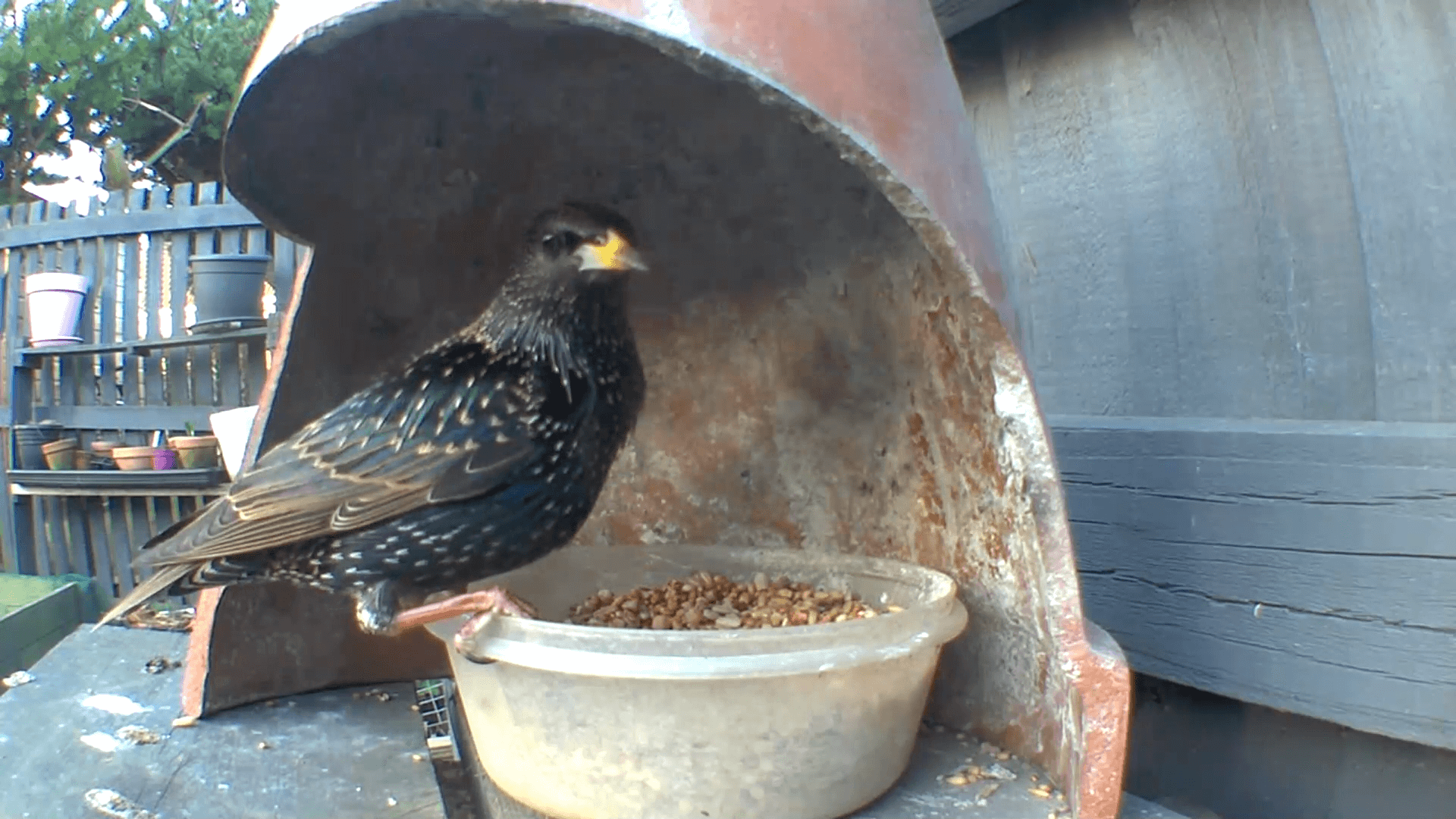 Watching birds at your bird feeder or bird table is a lovely, relaxing pastime but you usually have to remain some distance away.
In recent years there has been a plethora of home security video recorders coming on to market, several of these are incredibly small, feature motion detection and transmit video through your home wi-fi network so are totally wireless.
In June 2020 I purchased a Blink Outdoor camera, which is made by Amazon, for bird watching. The camera is waterproof, wireless and is powered by 2 x lithium AA batteries.
My plan was to setup the Blink as a battery powered, wireless Bird Feeder Camera.
Wireless Bird Camera Setup
The Blink camera system consists of the camera itself and a base station that you keep plugged in to the mains in the house. The base station transmits your wi-fi signal to the camera and acts as a relay for the returning video from the camera.

I put the supplied batteries in the camera, plugged in the base station and installed the Blink app on my phone. The Blink app is compatible with iOS, Android and Kindle devices.

All in all it took a matter of minutes to setup.
Using a Blink Camera to Video Birds
I have various bird feeders and a birdbath in my garden so rather than fixing the Blink camera to one location, I like to move it around every couple of days so I can view various birds.

The settings in the Blink app are quite straight forward. Simply turn on the motion detection option which will then trigger the camera every time a bird appears. The settings I currently use are shown below :
More advanced settings allow you to filter out parts of the screen using Activity Zones, this is useful if a tree is blowing about and creating false motion detection alerts.
It's also possible to schedule the camera to turn on and off at set times. The camera features infrared night vision so it can be used to film hedgehogs, badgers or foxes too.
When motion is detecting the camera automatically records and then messages you to say it has recorded. You can then immediately view the recording on your phone. The videos can be downloaded to your phone and then edited on a computer or shared online. The quality is great too, standard HD video quality, and the videos include sound.
Blink Wildlife Camera – Verdict
Overall, I am absolutely delighted with the Blink. The camera functions superbly as a low-cost wildlife camera in either the day or night. It is also really easy to setup and sends video over wi-fi. The Blink just works, straight out of the box.
The battery usage isn't quite the 2 years promised by Amazon, but I am a heavy user compared to the average. I think that needing new batteries every 9 months or so isn't a dealbreaker.

If you enjoy watching birds in your garden then please do try one of these excellent little cameras.
BirdCam on YouTube
Every month I upload a highlights reel from my Blink Bird Feeder Camera, which I add to my BirdCam Playlist on YouTube and you can also view them on my Bird Watching in Aberdeenshire page.